সকালের মিষ্টি রোদ, নদীর পানিতে পড়ে কেমন ঝলমল করছে। নদীপারে এসে মন্তু গান ধরেছে, "মাঝি বাইয়া যাও রে, অকূল দরিয়ার মাঝে আমার ভাঙা নাও রে মাঝি, বাইয়া যাও রে…"
" বাহ, বেশ ভাল গান গাও দেখছি, মন্তু মিয়া"। মন্তু পাশ ফিরে তাকাতেই দেখল ডাক্তার আপা।
" আরে আপা, আপনে!" মন্তুর এমন প্রশ্নে ডাক্তার আপা বললেন, "তোমাদের বাড়ির দিকেই যাচ্ছিলাম মন্তু, আমিতো বলেই রেখেছিলাম আসবো। চলো আগাই।" মন্তু বলল, " জে আপা, চলেন। "
বাড়িতে এসেই টুনিকে ডেকে আপার আপ্যায়নের ব্যবস্থা করতে বলল মন্তু। আপা গিয়ে টুনির শরীর কেমন, তার খবরাখবর জানতে লাগলেন। এদিকে মন্তু আবুলের বাড়িতে ছুটলো, আবুলের বউয়ের রিপোর্ট আনতে।
মন্তু : আপা, আবুলের বউয়েরও এনিমিয়া হইসে, জানেন? এইযে রিপোর্ট দেখেন, তয় এহানে বলা আছে Macrocytosis, তার মানে তো cell বড় হইসে, কিন্তু Megaloblast নাই। এইডা কিভাবে সম্ভব আপা? আপনে তো কইসিলেন RBC বড় হইলেই Megaloblast থাকবো!
ডাক্তার আপা : হুম, তোমার কথা ঠিক আছে। তবে মন্তু, রিপোর্ট দেখে যেটা বুঝলাম আবুলের বউয়ের Pernicious anemia হয়েছে। এই এনিমিয়াতে এমনটা হতে পারে।
মন্তু : Pernicious anemia? সেটা আবার কি ধরণের এনিমিয়া?
ডাক্তার আপা : It's a chronic disorder in which the basic pathological lesion is gastric atrophy which results in Vit-B12 deficiency, characterized by one or combination of macrocytic anemia, glossitis & nervous system involvement.
মন্তু : ও আইচ্ছা, তাইলে আপা এইডা কোন প্রক্রিয়ায় হইবো?
ডাক্তার আপা : হুম, তোমাকে একটু বুঝিয়ে বলি, মন্তু। আসলে pernicious anemia এর ক্ষেত্রে fundamental defect হলো, এই gastric mucus membrane এর permanent atrophy এর কারণে stomach এর intrinsic factor secretion করার ব্যর্থতা। ফলে এই intrinsic factor এর অনুপস্থিতির কারণে Vit-B12 সমৃদ্ধ খাবার absorb হয় না, ফলশ্রুতিতে Vit-B12 deficiency হয়।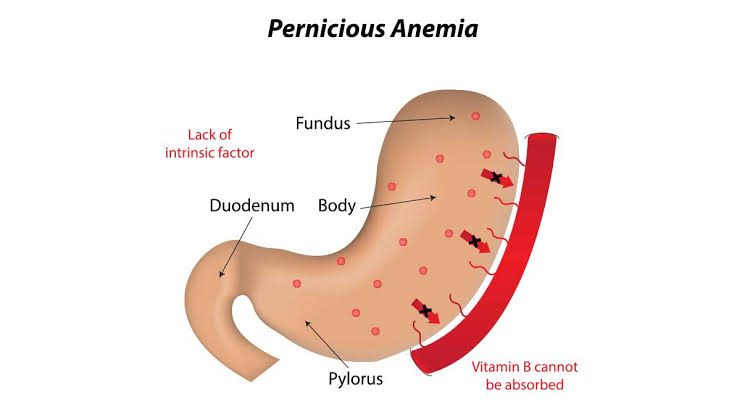 মন্তু : আপা, এই gastric atrophy না হইলে তো কোন ঝামেলা ছিল না! এইডা কিভাবে হয় আসলে?
ডাক্তার আপা : এটা কিভাবে হয় সে বিষয়ে আসলে নিশ্চিত কোন কারণ নেই তবে বর্তমানে ধারণা হয়, genetic এবং autoimmune factors এর complex interaction এর কারণে এটা হয়ে থাকে।
🔸 সেক্ষেত্রে Genetic factors গুলো হলো :
▪ আক্রান্তদের মধ্যে শতকরা ১০ ভাগ রোগীর এক বা একাধিক family member রাও আক্রান্ত হয়ে থাকে।
▪ যাদের রক্তের গ্রুপ 'A' তাদের এবং তাদের relative দের আক্রান্ত হবার সম্ভাবনা বেশি।
▪ Northern European ancestry এর লোকদের ক্ষেত্রে বেশি আক্রান্ত হতে দেখা যায় এবং southern European stock ও Asians দের মধ্যে কম দেখা যায়।
▪ Fair skin এবং blue eyes যাদের, তাদের আক্রান্ত হবার সম্ভাবনা বেশি।
🔸 আর Autoimmune factors গুলো হলো :
▪ ৮৫% রোগীদের serum এ বা অধিকাংশ রোগীদের gastric juice এ parietal cell antibody পাওয়া যায়।
▪ এবং (৫০-৭০)% রোগীদের এই serum এবং gastric juice এ দুই ধরণের intrinsic factor antibodies পাওয়া যায়, সেগুলো হলো :
Blocking antibodies (50-70% of patients)
Binding antibodies ( less frequent)
তবে (২০-৩০%) রোগীদের ক্ষেত্রে দুই ধরণের antibodies ই পাওয়া যায়।
মন্তু : জে আপা, বুঝলাম। এইডা হইলে কি ধরণের সমস্যা হইবো আপা?
ডাক্তার আপা : Pernicious anemia হলে যে ধরণের লক্ষণগুলো দেখা যায়, তা হলো :
✔ Features of anemia
▪Tiredness
▪Palpitation
▪Weakness
▪Angina on effort
✔ Characteristic lemon-yellow skin colour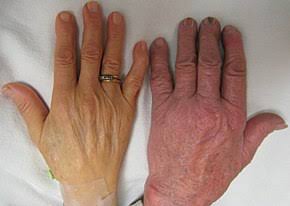 ✔ Paraesthesiae
✔ Stomatitis & glossitis
✔ Recurrent diarrhoea
✔ Anorexia & weight loss
✔ Abdominal pain
✔ Mental & visual disturbance
মন্তু : আপা, এইডা যে হইসে তা কিভাবে বুঝা যাইবো? আবুলের বউরে তো নাকি অনেকগুলা পরীক্ষা-নিরীক্ষা দিসিল!
ডাক্তার আপা : হ্যাঁ, মন্তু। আমরা বিভিন্ন পরীক্ষা- নিরীক্ষা করে দেখে থাকি। প্রথমত রক্ত পরীক্ষা করি, তখন blood picture দেখে কিছু জিনিস বুঝতে পারি-
🔹Hb% : Reduced
🔹MCV & MCH are increased but MCHC is normal
🔹Peripheral blood film:
➡ RBC :
▪ Macrocytosis with anisocytosis & poikilocytosis.
▪ Normocytes & microcytes are also present.
▪ Cells containing Howell-Jolly bodies & megaloblast may be present.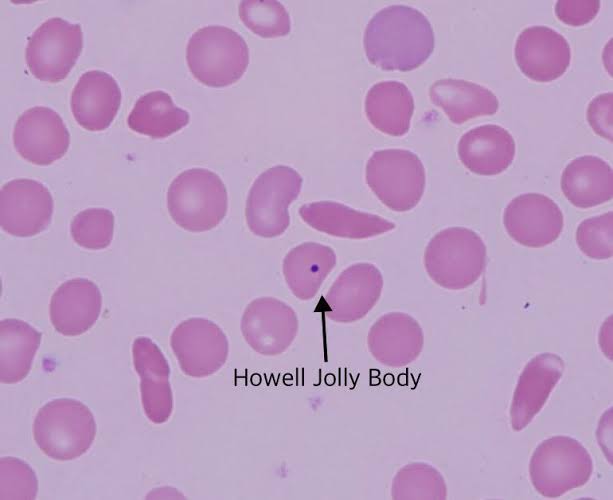 ➡ WBC : Moderate neutropenia with hypersegmented neutrophils.
➡ Platelets : Moderate thrombocytopenia.
দ্বিতীয়ত আমরা bone marrow পরীক্ষা করে কিছু জিনিস দেখতে পারি-
🔹Cellularity : Increased
🔹 M/E ratio : Decreased
🔹 Erythropoiesis : Intensely active & predominantly megaloblastic.
🔹 Granulopoiesis : Active, giant metamyelocyte may be found.
🔹 Megakaryopoiesis : Normal or slightly increased, occasionally decreased.
🔹 Bone marrow iron stain : Increased iron granules in erythroid precursors & in reticular cells.
তৃতীয়ত আমরা দেহের biochemical findings দেখে কিছু জিনিস বুঝতে পারি-
🔹 Serum iron & ferritin are increased
🔹 Serum bilirubin may be slightly increased
🔹 Plasma LDH is invariably increased
🔹 Serum haptoglobin level is reduced
🔹 Serum folate is usually normal, but red cell folate is almost always reduced
এবং সর্বশেষ কিছু special tests করে থাকি আমরা, সেগুলো হলো-
🔹 Serum Vit-B12 assay- low
🔹 Anti-intrinsic factor antibodies – present in most cases
🔹 Radioactive Vit-B12 absorption test (Schilling test)- abnormal
🔹 Serum gastrin level- 80% patient have elevated serum gastrin level.
মন্তু : আপা, তাইলে এটা দূর করতে কি ধরণের চিকিৎসা দেওয়া লাগবো?
ডাক্তার আপা : হুম, যেসকল চিকিৎসা দেওয়া হয় তা হলো :
▪ Intravenous administration of Vit-B12
▪ Symptomatic & supportive therapy
▪ Follow up & early detection of carcinoma of the stomach.
Reference: Renu Saxena et al, de Gruchy's Clinical Hematology in Medical Practice, Sixth adapted edition, Wiley, 2014.
(চলবে…)
Jinat Afroz Kiron (PMC, 16-17)
Abhishek Karmaker Joy (SSMC, 16-17)