Hypoparathyroidism কে আমরা তিন ভাগে ভাগ করতে পারি-
1. Primary Hypoparathyroidism
2. Pseudohypoparathyroidism (PHP)
3. Pseudopseudohypoparathyroidism (PPHP)
আজকে আমরা Primary Hypoparathyroidism সম্পর্কে জানব।
Cause of Primary Hypoparathyroidism :
1. Surgery – (Thyroidectomy, Radical neck surgery)
2. Congenital –
a) DiGeorge syndrome-
– Decreased PTH (Parathyroid hormone)
– Decreased Cell mediated immunity.
b) Polyglandular autoimmune type 1 deficiency – due to mutation of a stop codon.
– Decreased PTH
– Decreased Adrenalgland secretion
– Chronic muco-cutaneous candidiasis
– Failure of ovary
– Decreased Immune function
– Pernicious anaemia
3. Idiopathic Hypoparathyroidism
4. Autosomal Dominant hypocalcemic hypercalciuria
5. Rarely in Hemochromatosis and Wilson's Disease.
Clinical feature :
Parathyroid gland আমাদের body তে calcium এর level maintain করে। তাই, PTH যদি কমে যায় তাহলে calcium level ও কমে যাবে। So, আমরা hypocalcemia এর feature পাবো। তাহলে কি সেটা?
a. Mild hypocalcemia এর feature নাই – asymptomatic।
b. কিন্তু যদি severe হয় –
calcium এর একটা কাজ হলো calcium আমাদের cell এ Na এর permeability maintain করে।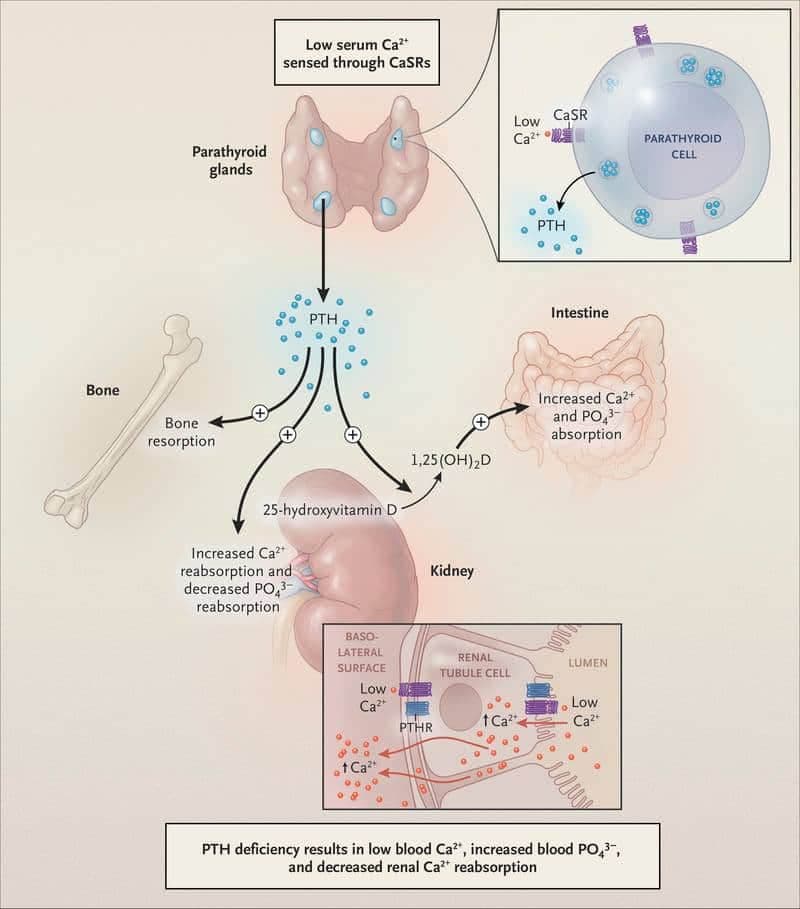 এখন,
Decreased Ca level

Increased Na permeability

Increased depolarization

Nerves become hyperexcitable

Features of tetany –
– Circumoral numbness
– Tingling in finger
– Carpopedal spasm : Flexion of Metacarpophalangeal joint and adduction of thumb (Specially in inflation of sphygmomanometer cuff on upper arm to more than systolic blood pressure it is known as Trousseau's sign)
– Chvostek's sign : Tapping over the parotid gland produces twitching of facial muscle.
– Laryngospasm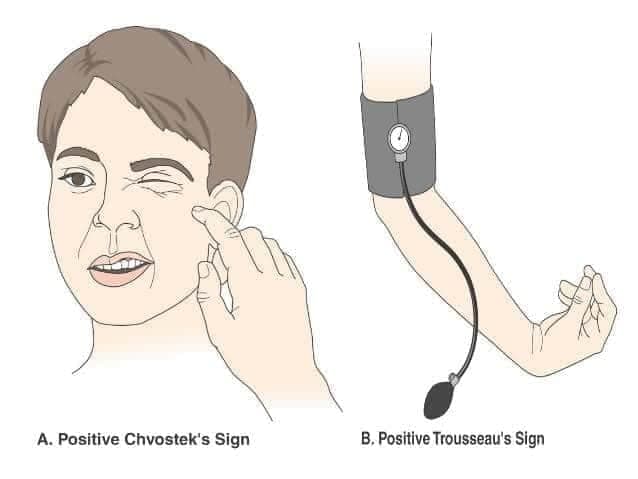 Other features –
– Generalised seizure
– Emotional instability
– In ECG – Prolonged QT interval
– In prolonged case – Calcification in basal ganglia, Epilepsy, Psychosis, Cataracts.
– Hypomagnesaemia.
Investigation:
1. Serum PTH – Decreased
2. Serum Calcium – Decreased, Serum Phosphate – Increased
3. ECG – Prolonged QT interval
4. CT (Computerized tomography) scan, MRI (Magnetic resonance Imaging) – to see calcification.
Treatment:

1. Vitamin analogues – calcitriol
2. Calcium gluconate
In severe hypocalcemia – 10-20 ml over 10-20 minutes.
3. If hypomagnesaemia occurs – IV magnesium chloride (50 ml over 24 hours)
মেজবাহ উদ্দিন
রাজশাহী মেডিকেলে কলেজ
সেশনঃ ২০১৫-২০১৬
প্ল্যাটফর্ম একাডেমিক / নাসিম পারভেজ