Hemolytic anaemia এর enzyme defect cause গুলোর মধ্যে অন্যতম common cause হলো Glucose 6 phosphate dehydrogenase enzyme deficiency।
এই Enzyme তৈরির gene থাকে X chromosome এ। তাই Male gender আক্রান্ত হয় বেশি।
ঘটনা কি ঘটে আসলে-
Glucose 6 phosphate dehydrogenase enzyme আমাদের কোষে HMP shunt নামে যে প্রক্রিয়াটি চলে তার সাথে জড়িত।
নিচের চিত্র থেকে আমরা HMP shunt এর কিছু অংশ সম্পর্কে জানতে পারব।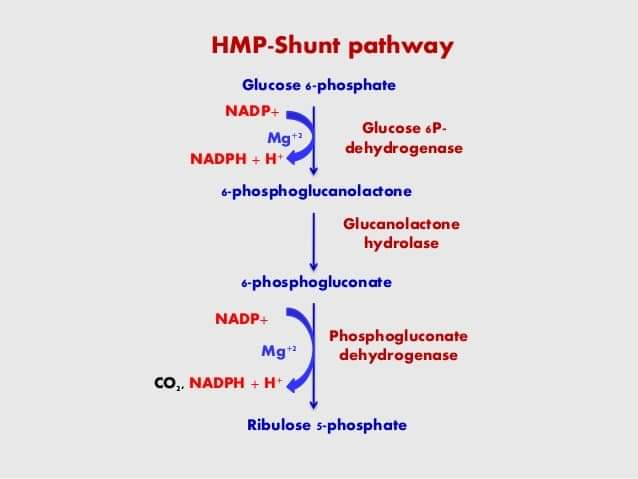 এখন HMP shunt এ যে NADPH+, H+ উৎপন্ন হয় তা আমাদের RBC কে বিভিন্ন free radical(super oxide, hydrogen peroxide, hydroxyl ion) থেকে protect করে (please see the picture)।
এখন প্রশ্ন আসতে পারে Free radical আসলো কোথা থেকে। এখানে একটি Triad আছে।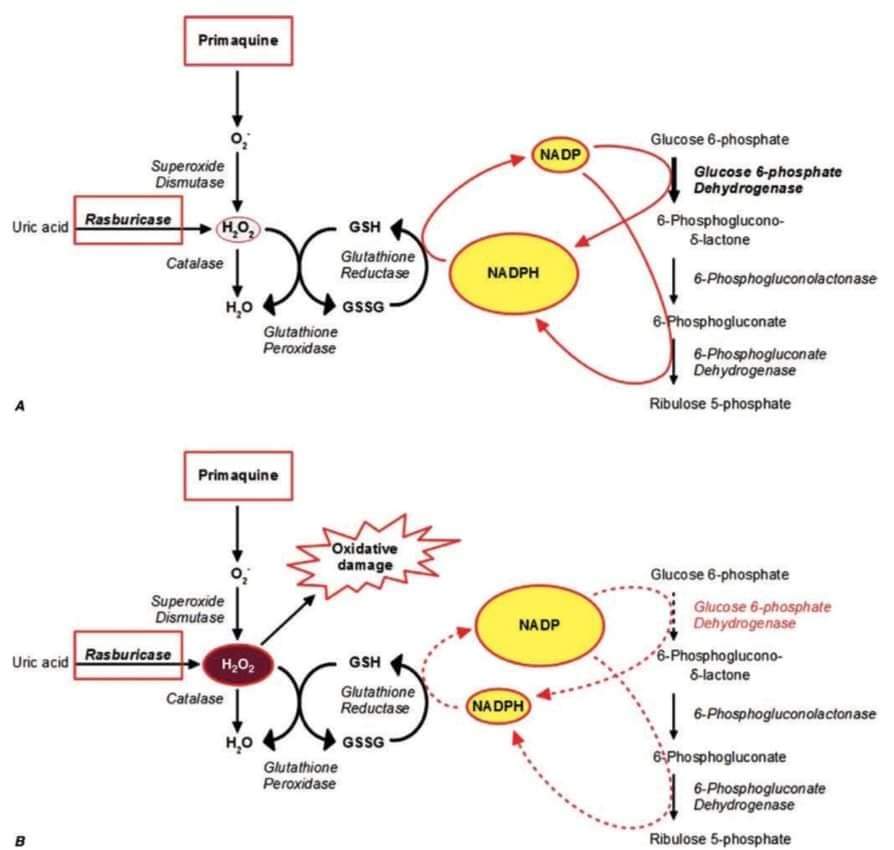 Infection
Drugs(AAA)-Anti malarial, Antibiotic(Nitrofuratine,sulfonamide), Aspirin.
Fava beans.
এখন যদি Glucose 6 phosphate dehydrogenase enzyme deficiency হয় তাহলে তা glutathione কে reduce করতে পারবে না।
⬇️
Free radical তখন Hemoglobin এর sulpha hydral group কে reduce করবে।
⬇️
Denaturation of Hb.
⬇️
Insoluble Hb.
⬇️
Hb becomes precipitated.
⬇️
এই Precipated Hb কে আমরা supra vital stain করলে দেখতে পাই যাকে বলা হয় Heinz bodies।
⬇️
Ultimately RBC membrane damage and rupture হবে আর এটা যেহেতু vascular system এ হচ্ছে তাই একে আমরা বলব intravascular hemolysis।
আরেকটা Feature ও পাওয়া যায় PBF(Periferal blood film) এ। সেটা হল Bite cell।
RBC membrane damage হলে তার flexibility কমে যায়।
⬇️
ফলে Spleen দিয়ে যাওয়ার সময় macrophage attack করে।
⬇️
Macrophage সম্পূর্ণ attack করতে না পারলেও RBC এর গায়ে তার কামড়ের চিহ্ন রেখে আসে।(Bite RBC)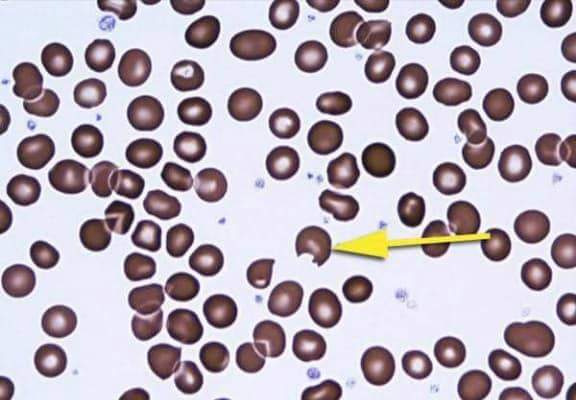 Clinical feature :
Anaemia
Jaundice
Hemoglobinuria
Rarely AKI – due to accumulation of Hb in PCT cell.
Asymptomatic.
Investigation :
CBC
PBF
serum heptoglobulin,LDH,bilirubin
Liver function test
Urine R/M/E.
Treatment :
Stop medicine which aggravate the condition
Blood transfusion (if necessary)
অনেক সমস্যার কথা লিখলাম এবার একটা ভালো কথা লিখি। G6PD deficiency এর ভাল দিক হলো যাদের এই রোগ থাকে তাদের ম্যালেরিয়ার সম্ভাবনা কমে যায়।
কারণ Malaria এর merozoite এর জন্য reduced glutathione দরকার যা এখানে থাকে না।
মেজবাহ উদ্দিন
রাজশাহী মেডিকেল কলেজ
সেশনঃ২০১৫-২০১৬
প্ল্যাটফর্ম একাডেমিক/ তাবাসসুম ইসলাম